OÜ EVARI EHITUS PERFORMS INSPECTION AND MAINTENANCE OF EXISTING FLAT ROOFS AND REMOVAL OF EXCESSIVE SNOW.
We advise you to be a prudent owner and perform inspection of your existing roof along with any maintenance works needed sooner rather than after problems have already come to light.
Free roof inspection if you order renovation works from us!
Regular maintenance of the roof enables to discover and eliminate arisen problems early and avoid considerable expenses on early large-scale renovation works.
We recommend visual inspection of the roof at least twice (2) a year (in spring and autumn) and simultaneous performance of any maintenance work needed, if necessary.
We advise to use workers with appropriate competence for performance of maintenance works on the roof.
In normal circumstances, it is not necessary to remove snow from a flat roof. It should be done when there is too much load on the load-bearing structure or if there is a reason to fear hazardous situations caused by snow falling off the roof.
Any tools that are needed to perform the works must not be sharp (shovels with round corners and no reinforced edge).
Ice must be removed by using defrosting substances, gas flame or hot water (not by chiselling with an axe, shovel or crowbar).
Snow is removed from roofs layer-by-layer, leaving an at least 10 cm protective layer on the roof.
Falling of snow from upper layers of the roof to lower layers must be avoided.
Accumulation of snow in piles on the roof must be avoided.
ACKNOWLEDGEMENTS
OÜ Evari Ehitus won the Estonian Gazelle award in 2014.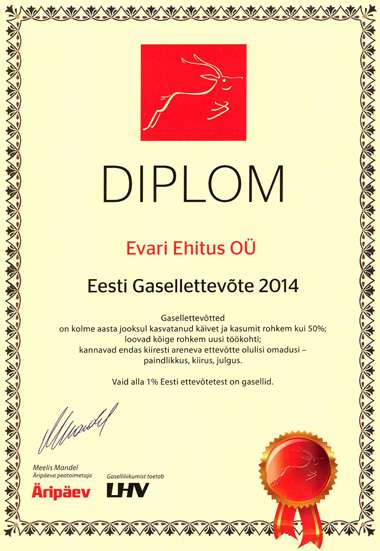 MEMBERSHIP OF PROFESSIONAL ASSOCIATIONS
OÜ Evari Ehitus is a member of the Estonian Union of Roofers and Façade Makers from 2012.

[contact-form-7 id="5224″]