OÜ EVARI EHITUS INSULATES FOUNDATIONS AND BASEMENT WALLS OF BUILDINGS
We use various foam insulation boards for insulation. The thickness of the insulation depends on the material used, the need, the wishes of the ordering party and the possibilities.
Before installation of insulation, it is necessary to install a layer of waterproofing on the foundation or the basement walls in most cases.
ACKNOWLEDGEMENTS
OÜ Evari Ehitus won the Estonian Gazelle award in 2014.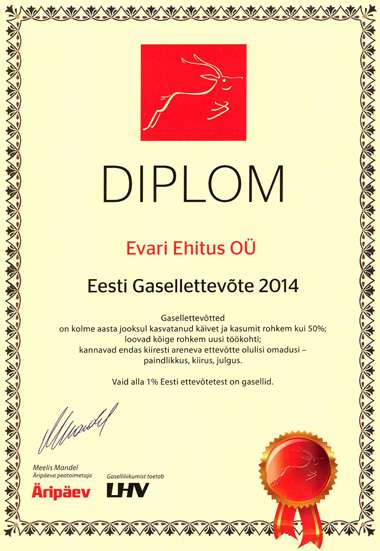 MEMBERSHIP OF PROFESSIONAL ASSOCIATIONS
OÜ Evari Ehitus is a member of the Estonian Union of Roofers and Façade Makers from 2012.

[contact-form-7 id="5224″]