OÜ EVARI EHITUS RENOVATES FLAT ROOFS
Buildings (including roofs) age in the course of exploitation, new and better materials and technical solutions are brought to the market, the requirements set for buildings become stricter. At a certain point, it becomes necessary to renovate the roof or the whole building
To ensure the expected outcome of roof renovation, we advise you to go through three stages in renovating roofs.
STAGES OF RENOVATION:
The following components must be assessed:
old roofing;
parapet and/or cornice;
drainage system;
penetrations through the roof;
opening of the roof;
insulation layer;
airing system;
load-bearing structures.
We advise you to use the help of a specialist.
The main works performed:
preparation works;
vapour barrier installation;
adjustment of inclinations;
installation of insulation or additional insulation;
installation of a pressure diffusion layer;
mechanical attachment of the material to the surface;
construction of an airing system for the roof;
waterproofing of the roof;
finishing of various joints;
installation of roof flashings.
ACKNOWLEDGEMENTS
OÜ Evari Ehitus won the Estonian Gazelle award in 2014.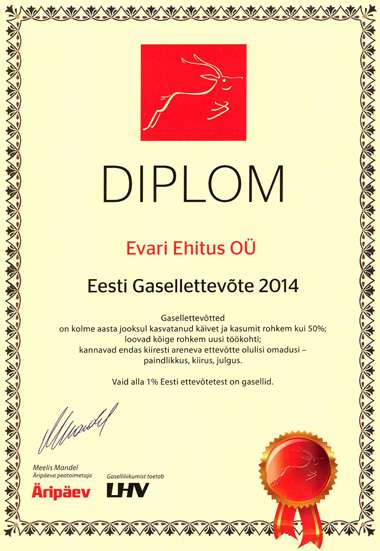 MEMBERSHIP OF PROFESSIONAL ASSOCIATIONS
OÜ Evari Ehitus is a member of the Estonian Union of Roofers and Façade Makers from 2012.

[contact-form-7 id="5224″]