OÜ EVARI EHITUS PERFORMS WATERPROOFING WORKS
Waterproofing consists of priming and one or more layers of coating or rolled material. Protects building structures from the damaging effect of water and moisture.
The main material used by us is SBS modified bitumen rolled material, PVC rolled material.
We perform waterproofing works on the following structures:
of foundations and basement walls;
of floors;
of decks;
of balconies;
of multilevel car parks;
of bridges, flyovers, tunnels.
ACKNOWLEDGEMENTS
OÜ Evari Ehitus won the Estonian Gazelle award in 2014.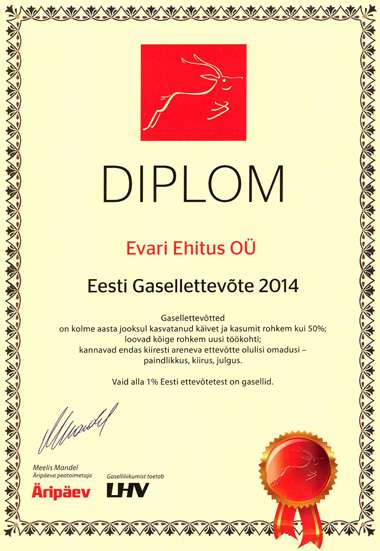 MEMBERSHIP OF PROFESSIONAL ASSOCIATIONS
OÜ Evari Ehitus is a member of the Estonian Union of Roofers and Façade Makers from 2012.

[contact-form-7 id="5224″]