OÜ EVARI EHITUS INSTALLS LOAD-BEARING SHEETS
Load bearing sheets are used in insulated and uninsulated load-bearing structures of roofs and in ceilings. Using load-bearing sheets is a cost-effective roof solution for building long bridgings. The sheets can also be used as a load-bearing layer to diffuse the horizontal load on framework/foundation.
The required sheets are chosen with the help of designing guidelines and, in more complex cases, with specific computer programmes. The manufacturer offers various solutions depending on the type of the construction works.
In case of a typical flat roof solution, the following works are performed on the roof if load-bearing sheets are used:
load-bearing sheet installation;
intermediate layer installation;
vapour barrier installation;
insulation installation;
roofing installation;
parapet or cornice construction;
airing system construction for the roof;
required flashing installation;
rainwater drainage system installation (gullies, drains, pipes).
ACKNOWLEDGEMENTS
OÜ Evari Ehitus won the Estonian Gazelle award in 2014.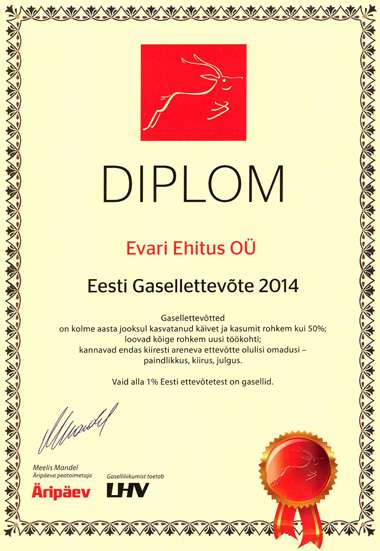 MEMBERSHIP OF PROFESSIONAL ASSOCIATIONS
OÜ Evari Ehitus is a member of the Estonian Union of Roofers and Façade Makers from 2012.

[contact-form-7 id="5224″]