OÜ EVARI EHITUS IS SPECIALISED ON THE FLAT ROOF CONSTRUCTION
a flat roof is the only possible solution if the inclination of the roof is lower than 1:10;
rolled roofing-covered roofs with varying inclinations, where the inclination may range from 0 to 90 degrees (domes, arches, special shapes), are also considered flat roofs if the materials and technology of construction of the flat roof have been applied to build the roof;
flat roofs are constructed to resist water stagnation;
load-bearing structures of flat roofs may be made of concrete, metal, wood;
depending on the need, the roofs are equipped with either internal or external drainage;
flat roofs can be insulated or not depending on the purpose of the roof;
flat roofs are ventilated or not depending on the structure of the roof.
VARIOUS TYPES OF FLAT ROOFS:
ACKNOWLEDGEMENTS
OÜ Evari Ehitus won the Estonian Gazelle award in 2014.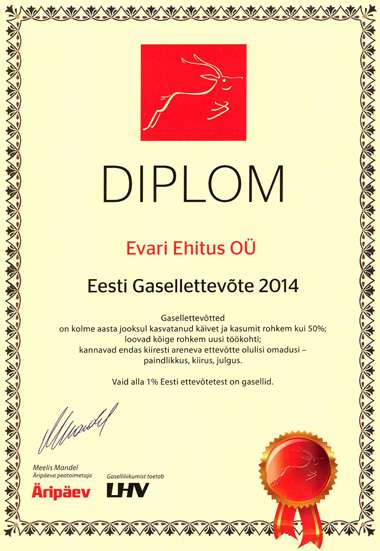 MEMBERSHIP OF PROFESSIONAL ASSOCIATIONS
OÜ Evari Ehitus is a member of the Estonian Union of Roofers and Façade Makers from 2012.

[contact-form-7 id="5224″]