OÜ EVARI EHITUS INSULATES EXISTING AND NEW FLAT ROOFS
Flat roofs are insulated or not, depending on the purpose of the buildings/rooms.
The main insulation materials include roof wools, roof foams and expanded clay and the choice of the material used depends on the specific project.
The load-bearing capacity of the insulation materials used in flat roofs must be at least 30 KN/m2 in the bottom and middle layers and at least 50 KN/m2 in the surface layer.
The thickness of the insulation layer depends on the insulation material used, the purpose of the building/room, and the wishes and possibilities of the ordering party.
USED MATERIALS:
The main advantage compared to foam insulation – good fire resistance.
Various mineral wools are used:
glass wool (Isover);
stone wool (Paroc, Rockwool, Tehnonikol).
The main advantage compared to wool insulation – greater resistance to moisture.
Various foams are used:
expanded polystyrene (EPS);
extruded polystyrene (XPS);
rigid polyurethane foam (PUR, PIR);
cellular glass (CG).
The main advantage compared to other insulation materials – considerable compressive strength.
Expanded clay is a ceramic filling and insulation material with the particle sizes of 2-4, 4-10, 10-20 mm.
It is used as the main insulation material as well as for building inclinations of various roofs.
Expanded foam is the best base layer for roof gardens.
ACKNOWLEDGEMENTS
OÜ Evari Ehitus won the Estonian Gazelle award in 2014.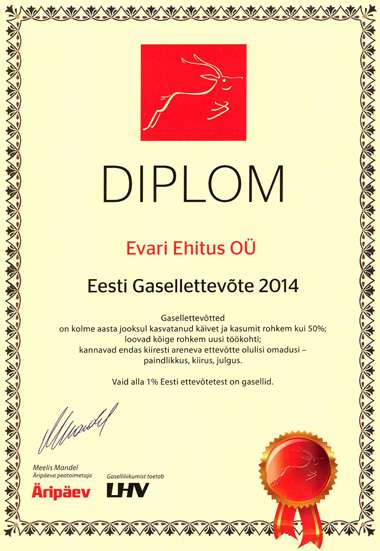 MEMBERSHIP OF PROFESSIONAL ASSOCIATIONS
OÜ Evari Ehitus is a member of the Estonian Union of Roofers and Façade Makers from 2012.

[contact-form-7 id="5224″]